Research Equipment ( co)funded by the Slovenian Research Agency .



Contact or responsible person / kontaktna in odgovorna oseba:

Name and Surname / Ime in priimek: Danilo Vrtačnik
Department / Oddelek: Laboratory of microsensor structures and electronics (LMSE)
Laboratorij za mikrosenzorske strukture in elektroniko (LMSE)
Tel:+386 1 4768303
E-mail / E-pošta: danilo.vrtacnik@fe.uni-lj.si


---
Spectroscopic ellipsometer SpecEL-2000-VIS
Characterization of transparent thin films (thickness, refractive index).
The equipment is installed in clean room environment and is accessible also to other research institutions.
use of the ellipsometer for an experienced user is €89,18 per hour.
Elipsometrični merilnik tankih plasti SpecEL-2000-VIS
Karakterizacija (debeline, lomni količnik) tankoplastnih transparentnih filmov
Oprema je nameščena v čistih prostorih in je pod ustreznimi pogoji dostopna tudi drugim raziskovalnim organizacijam
Cena uporabe merilnika za izkušenega uporabnika znaša 89,18 €/uro.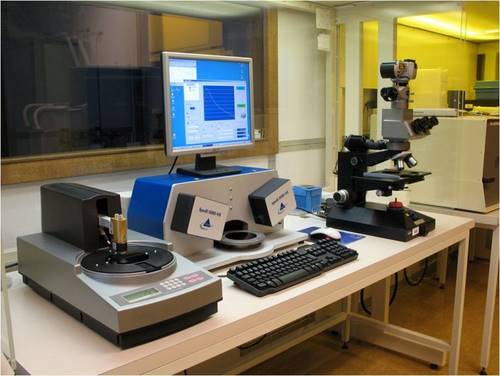 ---
System for production of ultra pure dionized water (UPW)
System for laboratory production of dionized water used in microelectronic processing. Complies with E2 standard.
System is permanently installed and connected to the closed supply loop of cleanroom facility. Deionized water as a product of the system is available to other institutions
use of the UPW for an experienced user is €87,42 per hour.
Sistem za pridobivanje ultra čiste vode (UPW)
Sistem je namenjen pridobivanju izredno čiste deionizirane vode za potrebe mikroelektronskih procesov. Ustreza standardu E2.
Sistem je fiksno postavljen in vključen v distribucijsko zanko čistih prostorov. Produkt, DI voda je zato dostopen pod omejenimi pogoji zainteresiranim partnerjem.
Cena uporabe UPW za izkušenega uporabnika znaša 87,42 €/uro.